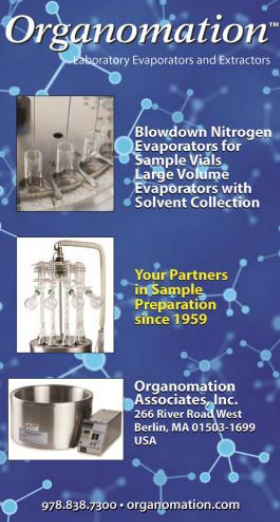 Berlin, MA, April 23, 2015 – The digital version of Organomation's 2015 Laboratory Evaporator and Extractor catalog can now be requested through the company's website. This 10 page brochure focuses on the company's blowdown nitrogen evaporators for sample vials in addition to Organomation's large volume evaporators with popular solvent collection capabilities.
Sales and Marketing Manager, David Oliva, stated that, "we were very excited to create this catalog for all of our stakeholder groups. We hope that these new catalogs will expose our existing customers to all of our product offerings while enticing those who are connecting with our brand for the first time"
This catalog, with numerous photographs and descriptions of each instrument option, will help guide customers to the right evaporator or extractor based on their needs. With many product development projects currently underway, Organomation expects to revamp this catalog on a yearly basis.


Company background:
Since 1959, Organomation has been a leading provider of analytical chemistry sample preparation solutions. The company has provided quality hand-built equipment and unparalleled levels of customer service since their inception. The foundation of the company stems from the first ever commercially successful nitrogen evaporator invented by Organomation's founder, Dr. Neal McNiven.
Throughout the years, Organomation has expanded upon their product lines while providing a superior laboratory product at affordable prices. Organomation is well known for their lines of nitrogen evaporators, solvent evaporators and solvent extraction instruments.


Contact:
David Oliva
davido@Organomation.com
(978) 838-7300
Organomation Associates, Inc.
266 River Road West
Berlin, MA, USA
01503