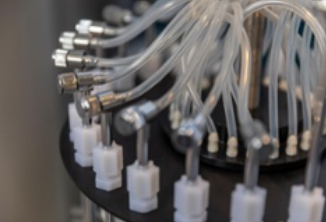 Any time you need to purchase high end laboratory equipment, the sales process can be very stressful. Sales representatives are looking to fill their quotas in order to receive their commissions and to reach production goals. In order to make sure that you get the best deal on the right sample concentrator, make sure you ask these six questions in order to potentially save thousands of dollars while also making sure you are ordering the best possible instruments for your specific lab and testing methodologies.
Question # 1:

Do you offer any discounts on your equipment if I buy multiple units?
If you are looking to purchase just one lab evaporator and you ask for a discount, the majority of the time you will be met with a resounding "no." However if you work for a lab that has multiple locations throughout the country that could all use new nitrogen evaporators, or you can justify buying multiple units, often times you can qualify for distributor discounts which can save you anywhere from 5-10% off the listed price of the nitrogen evaporator. Asking this one question and being flexible with the manufacturer has the potential to save you thousands of dollars. At the end of the day, the sales representative is looking to make the sale, and if you offer something that he can't pass up such as a multiple instrument order or same day payments (credit cards or bank transfers) then may receive a discount on your blow down evaporator purchase.
Question # 2:

How long has the manufacturer been in business for?
There are many manufacturers in the world that can take an instrument and make a copy of it for a fraction of the cost. While this may seem advantageous for the end user so he or she may be able to save some money, you should avoid knock offs at all costs and always purchase from a reputable manufacturer. Knock-offs cut costs by using inferior materials and parts, which in the long run can jeopardize the operation of the instrument which can also potentially contaminate your samples. The longer the company has been in business the better; typically you should look for a manufacturer that has been producing sample preparation equipment for over 30 years. If a company has been in business for over 30 years, it's because they have good products and know what they are doing.
Question # 3:

What is the instrument made out of?
You should only be using evaporators which are made out of laboratory grade stainless steel or anodized aluminum. Any evaporation system which is constructed primarily of plastic has the possibility of being corroded if your laboratory uses any acidic procedures. Acid on plastic does not work, and can easily destroy an expensive piece of equipment. Open aluminum and steel can oxidize and lead to potential sample contamination.
Question # 4:

Do you offer an acid resistant version of your nitrogen evaporator?
The one thing I have learned from working within the analytical chemistry field is that people will put anything and everything into a laboratory evaporator, including sulfuric acid. While your applications may not call for such aggressive solvents, the manufacturer should be able to offer an acid resistant version of their equipment for any corrosive applications. This usually entails a coating of Teflon on all parts which are in contact with the solvent. While this may not seem very important, if you are using corrosive chemicals within a lab evaporator, a simple coating of Teflon can add years to the longevity of the instrument.
Question # 5:

Do you offer automated equipment?
The biggest shift in the sample preparation equipment industry over the next few years will be automation. Automatic equipment has so many benefits to an analytical laboratory that it would be foolish not to seek out automated solutions. Whether you are looking to increase your time savings or increase efficiency within a laboratory setting, automatic equipment will be able to provide many advantages compared to a manually operated laboratory evaporation system. An automatic nitrogen evaporator should be able to remove your samples from whichever heating medium you choose once a programmable time cycle has been completed. Also, check to see if the evaporator has the ability to shut off its heat and nitrogen source independently in order to fully stop the evaporation process.
Question # 6:

Can you do custom orders?
Nitrogen evaporation is an integral step within the sample preparation workflow. However stock manufactured equipment doesn't always suit the needs of every customer because there are so many procedures which require a blow down evaporator. Always ask if the manufacturer can make custom instruments to the design of the customer. While there might be associated fees added with unique orders, if you need specialized equipment hunt around until you find a manufacturer willing to take on your request. Not every company will grant this proposal, however you can assume the ones that do will place great value in customer satisfaction, and these are the organizations you want to do business with.