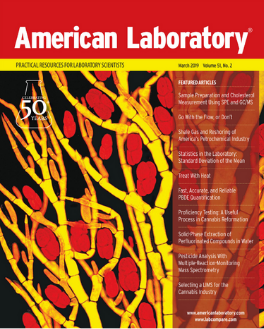 Berlin, MA, October 19, 2016 – Organomation is proud to announce that one of the company's own employees had an article featured in October's edition of American Laboratory magazine. Sales Technician Amy Valladares wrote the piece in an effort to bring awareness to the dangers of VOCs (volatile organic compounds) and to provide helpful advice on how to reduce emissions.
Although commonly used, solvents such as acetone, hexane and methylene chloride can be hazardous to people both inside and outside of the laboratory. OSHA has set restrictions on the allowable indoor vapor levels of certain compounds for the safety of lab personnel, which should be a concern of every laboratory manager. In an effort to protect the atmosphere and the general population, the US EPA has standards limiting ozone emissions, while specific states have even stricter policies above what is required by the US EPA's Clean Air Act.
Laboratories can focus on changing their processes, possibly by reducing the amount of solvent used. While attractive in theory, there are a number of obstacles to installing a large degree of change in an existing system. For example, due to the usage of standardized methods, the desired changes may not even be an option for the laboratory staff to consider.
Luckily, there are other approaches to reduce the amount of solvent emissions produced through laboratory processes. One of these approaches involves turning the solvent vapor back into liquid form for easier collection. For instance, some bench top evaporators are open systems which result in solvent vapor entering the fume hood, generally to be exhausted outside of the facility. Closed system units, such as Organomation's S-EVAP solvent evaporator, condense the solvent for easy disposal or recycling. Organomation's S-EVAPs are capable of collecting up to 97% of starting solvent.
The full article can be read here: Reducing Solvent Emissions in the Laboratory


Company background:
Since 1959, Organomation has been a leading provider of analytical chemistry sample preparation solutions. The company has provided quality hand-built equipment and unparalleled levels of customer service since their inception. The foundation of the company stems from the first ever commercially successful nitrogen evaporator invented by Organomation's founder, Dr. Neal McNiven.
Throughout the years, Organomation has expanded upon their product lines while providing a superior laboratory product at affordable prices. Organomation is well known for their lines of nitrogen evaporators, solvent evaporators and solvent extraction instruments.
Contact:
David Oliva
Davido@Organomation.com
(978) 838-7300

Organomation Associates, Inc.
266 River Road West
Berlin, MA, USA
01503