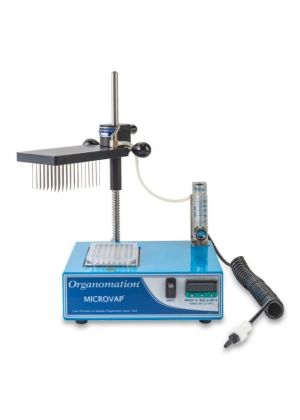 Berlin, MA, December 2, 2013 – Organomation announces the newly redesigned MICROVAP product line. These evaporation systems are designed for controlled concentration of small samples. All four models in the product line are light, compact and digitally controlled for ease of use.
The MICROVAP blowdown evaporators are offered in four different models which each provide flexibility for sample preparation applications of different kinds. The single and triple position MICROVAP microplate evaporators, formerly referred to as MICRO-TITERS, concentrate samples held within 96 well plates. These microplate evaporators can accommodate both deep well and micro well plates. The 15 and 24 position MICROVAP laboratory evaporators are intended for small batch solvent evaporation, such as concentration of sample batches in microcentrifuge tubes.
Sales and Marketing Manager David Oliva stated that "we are thrilled to reintroduce these compact sample concentrators. With bench space continuously becoming more of a premium, we are excited about the utility laboratory technicians can receive from these small footprint evaporators."
The MICROVAP product line is just one of three types of nitrogen evaporators produced by Organomation. The popular N-EVAP family of sample preparation instruments provides flexibility and individualized control for concentrating diverse samples. The MULTIVAP product line specializes in providing consistent evaporation during the removal of solvent from large batches.
The company's lab evaporators are extremely effective at removing solvent in samples used in preparative chromatography, solid phase extraction (SPE), liquid phase extraction (LPE) and other general laboratory procedures.
Company background:
Since 1959, Organomation has been a leading provider of analytical chemistry sample preparation solutions. The company has provided quality hand-built equipment and unparalleled levels of customer service since their inception. The foundation of the company stems from the first ever commercially successful nitrogen evaporator invented by Organomation's founder, Dr. Neal McNiven.
Throughout the years, Organomation has expanded upon their product lines while providing a superior laboratory product at affordable prices. Organomation is well known for their lines of nitrogen evaporators, solvent evaporators and solvent extraction instruments.
Contact:
David Oliva
davido@Organomation.com
(978) 838-7300
Organomation Associates, Inc.
266 River Road West
Berlin, MA, USA
01503