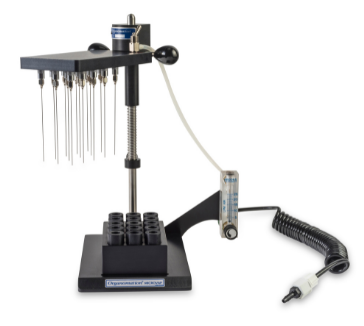 Berlin, MA, May 3, 2017 – Organomation is pleased to introduce four new product offerings in its MICROVAP product line. The new offerings come with an anodized aluminum stand rather than the traditional heating unit, and are designed for evaporation at ambient temperature. At around half the cost of a traditional MICROVAP, these evaporators are highly affordable while still retaining controlled gas delivery to each sample position.
Sales Technician Amy Valladares noted that "We are excited about these new units for the greater flexibility that they offer. Customers often ask for the evaporation manifold alone without the heating unit, and now we are able to offer that."
The unheated MICROVAPs will be offered in configurations for 6, 15, and 24 tube samples, along with a configuration for a single 96 well microplate. Units come with a supply tube, flow meter, gas distribution manifold, and stand to support and center the needle array.
The 96 well plate configuration is widely used for sample preparation in fields such as medical and drug testing, environmental water testing, and metabolomics research. One popular application is the preparation of microplates for analysis with LC-MS/MS; concentration is typically required in order to bring the analytes within detectable limits.
The 15 and 24 Position MICROVAPs are ideal for evaporating organic solvents from batches of small tubes (up to 22 mm and 17 mm in diameter respectively). Applications include food and beverage, pharmaceutical, and environmental testing.
Organomation is also introducing a 6 Position MICROVAP, designed for customers with larger sample tubes who desire a compact solvent concentrator. This evaporator is based on the same footprint as the 15 and 24 Position MICROVAPs and can accept tubes up to 30 mm in diameter. The 6 Position MICROVAP is available in both heated and unheated formats.
For a more detailed description on each MICROVAP unit, check out the MICROVAP product page. You can request a quote for any of these new offerings on each individual product page.


Company background:
Throughout the years, Organomation has expanded upon its product lines while providing a superior laboratory product at affordable prices. Organomation is well known for its N-EVAP line of nitrogen evaporators which offer unmatched flexibility by processing a wide range of test tube sizes without needing expensive accessories. The MICROVAP and MULTIVAP product lines allow for batch processing for applications where uniformity is important.
The company's S-EVAP solvent evaporator product line is steadily growing in popularity as regulatory agencies begin to enforce stricter limits on VOC emissions. All S-EVAP models are capable of reclaiming up to 97% of starting solvent volume through either the central or individual collection glassware arrangement.


Contact:
David Oliva
Davido@Organomation.com
(978) 838-7300

Organomation Associates, Inc.
266 River Road West
Berlin, MA, USA
01503