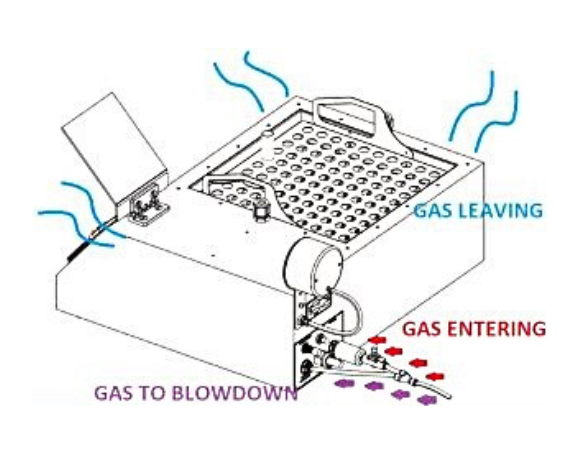 Organomation strives to create long-lasting sample preparation equipment, with safety and reliability as the top priorities. Many users of their evaporators work with highly flammable solvents such as hexane, diethyl ether, and carbon disulfide. In order to keep users of these flammable solvents safe, Organomation offers a positive pressure purge device as an optional safety item to each of their units.
This positive pressure purge device, also called a Z-Purge, allows users to safely concentrate samples containing these highly flammable solvents, without the risk of explosion. The Z-Purge uses both pressurization and purging to protect against an explosion. This is an affordable, yet effective alternative to intrinsically safe or explosion proof equipment.
This device works by maintaining a small flow of inert gas in the heating unit, creating a positive pressure gradient within the enclosure. This prevents solvent vapor from entering the heating unit and igniting. As an additional protection measure, the concentrator is continuously purged with inert gas throughout the entire evaporation process, meant to flush out any stray solvent vapor.
Each Z-Purge comes with a pressure gauge and control valve to monitor and maintain pressure within the heating unit. The purge system is not tied to instrument operation, so the evaporator can be operated without the use of the Z-Purge in low-risk environments. When switching back to highly flammable solvents, the concentrator should be re-purged before beginning evaporation.
This safety device can be added to all Organomation instruments including our full line of nitrogen blowdown evaporators as well as our large-scale solvent evaporators and extractors.
For nitrogen blowdown evaporators, the purge line can either be connected to the main nitrogen line using a Y-splitter, or to a separate clean air line to conserve gas.
Check out how to safely evaporate flammable solvents using the Z-Purge device: