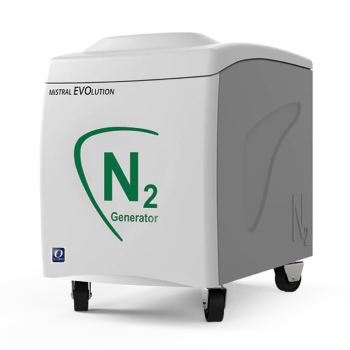 Organomation is proud to announce their newest product offering: the NITRO-GEN+ Nitrogen Generator. This self contained generator is designed to meet the nitrogen needs of LC-MS analyzers, by producing up to 35 L/min at 97% purity. This "plug and play" LC-MS gas generation solution can increase the efficiency of your analysis by providing a constant supply of high-purity nitrogen gas, eliminating the interruption to your analysis when changing out cylinders. You can see your return on investment in as little as 6 to 12 months.
The NITRO-GEN+ utilizes the well-known Pressure Swing Adsorption (PSA) and Carbon Molecular Sieve (CMS) technologies, combined with a dual compressor system for the most efficient and reliable nitrogen generation. With both a high and low pressure compressor working within the unit, it allows the nitrogen to be produced at a low pressure and ambient temperature. You no longer have to work with high-pressure cylinders and liquid Dewars, which can be dangerous for the technicians handling them.
The dual compressor system also reduces the stress that is put on each compressor by allowing them to work at their optimal pressure range. Subsequently, this leads to an extended compressor lifespan which reduces maintenance costs and any downtime spent on the replacement.
Main Advantages:
Convenient: Built-in compressors eliminate the need to source your own
Safe: Nitrogen is produced at a low pressure and an ambient temperature
Quiet: Running noise level is 55 dBA at 1 meter
Efficient: Provides a constant stream of high-purity nitrogen without needing to change out tanks
Simple: Complete "plug and play" solution with minimal learning curve
This new generator option is brought to you in partnership with VICI DBS. VICI was founded in Houston, TX in 1968 and has since acquired DBS Strumenti Scientifici to become VICI DBS. The company designs and manufactures high quality gas generation solutions for analytical applications. All VICI DBS products are manufactured at their facility in Padova, Italy. Organomation is thrilled to be collaborating with a principled company who shares the same morals as themselves in order to bring this high-grade LC-MS solution to the hands of their analytical customers.
The NITRO-GEN+ is an all-in-one nitrogen generation solution that is compatible with all Organomation evaporators up to 100 sample positions, as well as most LC-MS analyzers on the market. For additional product information and technical specifications, please visit the NITRO-GEN+ product page, or reach out to our sales team through email, phone (978-838-7300), or live chat.