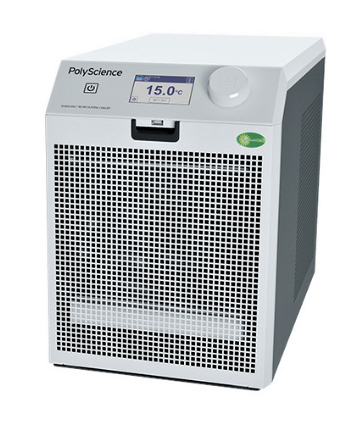 Berlin, MA, July 10, 2015 – For years, Organomation has been an authorized distributor of PolyScience laboratory chillers. Organomation has expanded the Products section of the company's website to proudly showcase these cooling units. Organomation recommends PolyScience recirculating chillers for use with its S-EVAP solvent evaporators and ROT-X-TRACT solvent extractors.
PolyScience recirculating chillers are known for their ability to provide dependable and unwavering cooling in applications performed in numerous industries. In the laboratory space, these cooling units are regularly used to assist in evaporation procedures, typically by cooling condensers which transform the evaporated solvent vapor into a liquid. As recapturing and collecting evaporated solvent is one of the main features of the S-EVAP, a chiller serves an integral role in a wide variety of sample preparation procedures using these instruments.
In an effort to support current users of Organomation instruments, the company will resell these laboratory chillers at the same prices as the manufacturer. For new users looking to purchase a complete evaporation or extraction system, quotes including both an Organomation instrument and a PolyScience chiller will be discounted for end users.


Company background:
Since 1959, Organomation has been a leading provider of analytical chemistry sample preparation solutions. The company has provided quality hand-built equipment and unparalleled levels of customer service since their inception. The foundation of the company stems from the first ever commercially successful nitrogen evaporator invented by Organomation's founder, Dr. Neal McNiven.
Throughout the years, Organomation has expanded upon their product lines while providing a superior laboratory product at affordable prices. Organomation is well known for their lines of nitrogen evaporators, solvent evaporators and solvent extraction instruments.


Contact:
David Oliva
davido@organomation.com
(978) 838-7300
Organomation Associates, Inc.
266 River Road West
Berlin, MA, USA
01503