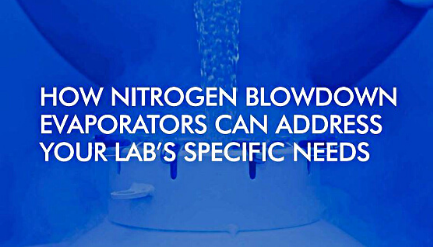 BERLIN, MASS (January 25, 2018) – Organomation has partnered with Lab Manager to create a paper on "How Nitrogen Blowdown Evaporators can address your lab's specific needs."
The paper details how nitrogen evaporation works and how it has become a popular method for sample preparation in sectors as diverse as environment, agriculture, food and beverage, medicine, quality assurance, forensics, and oil and grease.
Every lab has its own evaporation needs that must be met with the system they choose. Whether those needs are with sample volume, batch size or flexibility, there is a nitrogen blowdown evaporator that can address them.
Learn more about the following:
- The principles of nitrogen evaporation.
- How to manage small samples and microplates.
- Flexible solutions to accommodate large batches, different sample sizes, and various sample preparation techniques.
The full article can be read here: How Nitrogen Nitrogen Blowdown Evaporators can address your lab's specific needs.
For more information about Organomation's products and services, please visit Organomation.com or contact sales@organomation.com.


Organomation Associates, Inc.
Your Partners in Sample Preparation since 1959
Since 1959, Organomation has been a leading provider of analytical chemistry sample preparation solutions. The company has provided quality hand-built equipment and unparalleled levels of customer service since its inception. The foundation of the company stems from the first ever commercially successful nitrogen evaporator invented by founder, Dr. Neal McNiven. Organomation is well known for its lines of nitrogen evaporators, solvent evaporators and solvent extraction instruments. Throughout the years, Organomation has expanded upon its product lines while providing a superior laboratory product at affordable prices. Organomation is located at 266 River Road West, Berlin, MA 01503-1699 USA.