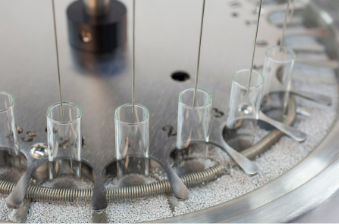 Berlin, MA, October 18, 2013 – Organomation unveils a plan to publish several laboratory evaporator themed pieces to the company's blog this Fall. This series of short articles will include many useful tips for users of the popular N-EVAP product line and Organomation's other nitrogen evaporators.
Sales and Marketing Manager David Oliva stated that "we are thrilled to publish and distribute these high quality research pieces for our website visitors. We hope to provide informative data about our laboratory evaporators in an easy to understand format."
Organomation understands the pressures that laboratories face to complete experiments in an efficient and timely manner. These blog posts will focus on critical topics including optimum operating conditions for nitrogen evaporators, preventing sample contamination and predicting evaporation rates.
The company's compact evaporators are extremely effective in the removal of residual solvent in preparative chromatography, solid phase extraction (SPE), liquid phase extraction (LPE) and other general laboratory procedures.
Company background:
Since 1959, Organomation has been a leading provider of analytical chemistry sample preparation solutions. The company has provided quality hand-built equipment and unparalleled levels of customer service since their inception. The foundation of the company stems from the first ever commercially successful nitrogen evaporator invented by Organomation's founder, Dr. Neal McNiven.
Throughout the years, Organomation has expanded upon their product lines while providing a superior laboratory product at affordable prices. Organomation is well known for their lines of nitrogen evaporators and solvent extractors.
Contact:
David Oliva
davido@Organomation.com
(978) 838-7300
Organomation Associates, Inc.
266 River Road West
Berlin, MA, USA
01503