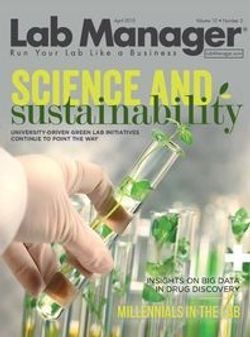 Berlin, MA, April 9, 2015 – Organomation is proud to announce that the company's products have been featured April's edition of Lab Manager Magazine. Each edition of the monthly publication includes a product focus which analyzes the current trends and technological developments regarding a specific laboratory instrument category. The author of the article, Mike May Ph.D., quoted Organomation's Sales and Marketing Manager David Oliva several times in the laboratory evaporator article.
As one of the pioneers in laboratory evaporation, Organomation is one of the most recognized manufacturers of nitrogen evaporators. Now with three unique nitrogen blowdown product lines, the company continues to provide unique solutions for use in applications requiring sample concentration. One unique offering Oliva highlighted in the interview was the company's MICROVAP evaporator which is able to process both sample vials and 96 well plates with the same heating unit.
When it came to the most interesting development in the laboratory evaporation space, Oliva mentioned the new regulatory pressures being put on high throughput laboratories to recapture their evaporated solvent. Kuderna Danish evaporators, which are utilized in many large scale evaporative procedures, are a target of laboratories focused on limiting the emissions they produce. Organomation's S-EVAP-KD is capable of reclaiming up to 97% of solvent from evaporation procedures requiring a KD apparatus.
Company background:
Since 1959, Organomation has been a leading provider of analytical chemistry sample preparation solutions. The company has provided quality hand-built equipment and unparalleled levels of customer service since their inception. The foundation of the company stems from the first ever commercially successful nitrogen evaporator invented by Organomation's founder, Dr. Neal McNiven.
Throughout the years, Organomation has expanded upon their product lines while providing a superior laboratory product at affordable prices. Organomation is well known for their lines of nitrogen evaporators, solvent evaporators and solvent extraction instruments.
Contact:
David Oliva
davido@Organomation.com
(978) 838-7300
Organomation Associates, Inc.
266 River Road West
Berlin, MA, USA
01503