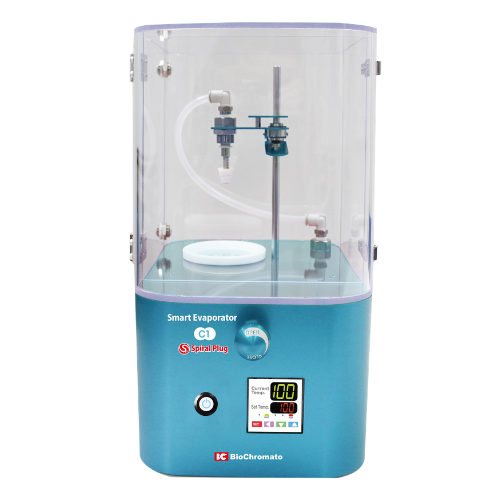 BERLIN, MASS (July 22, 2019) – Organomation, a leading laboratory evaporation solutions provider has partnered with BioChromato to provide a vacuum-assisted Smart Evaporator to customers in North America.
"BioChromato's Smart Evaporator was attractive to us due to their vacuum technology and patented spiral plug to concentration high boiling point solvents," said Sales Technician Amy Valladares.
The Smart Evaporator is an enclosed unit that combines vacuum and blowdown evaporation to concentrate solvents. Users can process one sample at a time.
BioChromato's vacuum vortex evaporation technology draws solvent vapors through the center of the spiral plug; as it draws, it also pulls air or nitrogen into the tube through the spiral grove, creating a vortex to speed evaporation.
The vacuum and increased surface area from the vortex allows for high boiling point solvents such as DMSO and DMF to be evaporated. Users do not run the risk of bumping their samples due to the constantly stirred vortex.
The unit comes with a tapered plug that allows different vials to be used with the same plug. Organomation will offer additional spiral plug to accommodate small volume samples in tubes with a mouth between 4 and 32 mm in inside diameter
"We're excited to offer this product because it makes sample concentration even easier—simply set the temperature and desired flow rate, load the vial, and let the Smart Evaporator do the rest," said Valladares.
For more information about the new Smart Evaporator, please contact sales@organomation.com


Organomation Associates, Inc.
Your Partners in Sample Preparation since 1959
Since 1959, Organomation has been a leading provider of analytical chemistry sample preparation solutions. The company has provided quality hand-built equipment and unparalleled levels of customer service since its inception. The foundation of the company stems from the first ever commercially successful nitrogen evaporator invented by founder, Dr. Neal McNiven. Organomation is well known for its lines of nitrogen evaporators, solvent evaporators and solvent extraction instruments. Throughout the years, Organomation has expanded upon its product lines while providing a superior laboratory product at affordable prices. Organomation is located at 266 River Road West, Berlin, MA 01503-1699 USA.