Organomation has been manufacturing laboratory evaporators and extractors, with a focus on nitrogen evaporation, for over 60 years. Organomation's founder, Dr. Neal McNiven, foresaw the need for sample preparation instruments required for chromatography. Shortly thereafter, he developed the first multiple sample, high speed nitrogen evaporator, the forerunner of many similar devices.
Since the first nitrogen evaporator was developed, we have expanded our product line to include microplate evaporators, solvent evaporators, Soxhlet extractors, and nitrogen generators - all of which are manufactured in the USA.
Organomation will be exhibiting at the 2022 Eastern Analytical Symposium from November 14-16. The event will be held at the Crowne Plaza Princeton Conference Center in Plainsboro, NJ. Our tabletop display will be located in room Stocton C, SC12 which is shown on the event map below.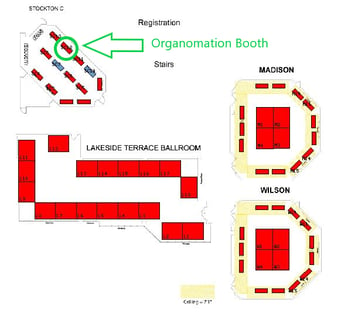 David Oliva (GM of Organomation) will be at our table to answer any questions you may have on our products, or to discuss your lab's sample preparation needs. We welcome everyone to stop by, say hi, and get to know Organomation's products!
We have a limited amount of free guest vouchers to attend EAS 2022. If you would like to receive one of these free vouchers, please fill out the form below and one of Organomation's employees will be in contact with you shortly.
If you have any questions or would like more information on our trade show attendance, please reach out to sales@organomation.com or call (978) 838-7300.


Request a free EAS 2022 guest voucher by filling out the form below.