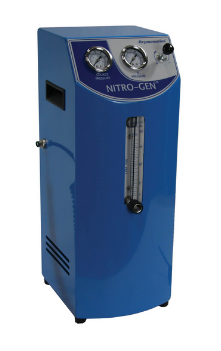 BERLIN, MASS (December 5, 2019) – Organomation, a leading manufacturer of laboratory instruments unveiled today a redesigned version of its nitrogen generator, branded as the NITRO-GEN™ .

Compared to the previous model, the new NITRO-GEN™ design features advanced pre-filtration, an easy to control flow rate, and can be mounted to a wall to save valuable lab bench space.

Designed for various lab applications, such as LCMS and blanketing, the unit provides nitrogen gas at a fraction of the cost of nitrogen cylinders and competing generators on the market.

It can produce up to a 99% pure stream of nitrogen at up to 20 liters per minute. No electricity is required as it runs off of the pressure provided by the compressed air source.

For more information, please visit organomation.com or contact sales@organomation.com.
NITRO-GEN demonstration video:
Organomation Associates, Inc.
Your Partners in Sample Preparation since 1959
Since 1959, Organomation has been a leading provider of analytical chemistry sample preparation solutions. The company has provided quality hand-built equipment and unparalleled levels of customer service since its inception. The foundation of the company stems from the first ever commercially successful nitrogen evaporator invented by founder, Dr. Neal McNiven. Organomation is well known for its lines of nitrogen evaporators, solvent evaporators and solvent extraction instruments. Throughout the years, Organomation has expanded upon its product lines while providing a superior laboratory product at affordable prices. Organomation is located at 266 River Road West, Berlin, MA 01503-1699 USA.