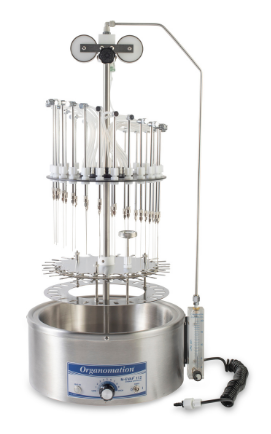 Berlin, MA, March 27, 2015 – A number of newly posted refurbished laboratory evaporators and extractors have been discounted within the company's official online store. At up to 50% off of the current list price, these instruments could be a great alternative for customers with tight equipment budgets or laboratories in need of a backup unit when sample volume spikes. All of Organomation's refurbished laboratory instruments come with a standard one year warranty.
Organomation regularly obtains instruments from the field through the company's official trade in program and other outlets. Once received, the laboratory instruments are rigorously tested to confirm that the unit can operate as new once reinstalled in the field.
Sales and Marketing Manager, David Oliva, stated that, "we are very excited that we have been able to turn our refurbished instrument sale into an annual event. From our 12 position N-EVAP nitrogen evaporators, to our S-EVAP solvent evaporators which can reclaim laboratory solvent, we are thrilled to offer such a wide range of our popular instruments below list price."
In the past, the company's famous blowdown evaporators received most of the attention of purchasers due to their flexibility and affordable pricing. Although these units remain popular, interest in Organomation's product lines outside on nitrogen evaporators continues to expand. As authorities impose stricter regulations regarding the emission of volatile organic compounds, recapturing solvent from evaporation procedures has become a critical objective. Organomation's S-EVAP solvent evaporators are capable of collecting up to 97% of solvent. While limited in the past, a variety of refurbished S-EVAPs are now available for sale with impressive savings.
Company background:
Since 1959, Organomation has been a leading provider of analytical chemistry sample preparation solutions. The company has provided quality hand-built equipment and unparalleled levels of customer service since their inception. The foundation of the company stems from the first ever commercially successful nitrogen evaporator invented by Organomation's founder, Dr. Neal McNiven.
Throughout the years, Organomation has expanded upon their product lines while providing a superior laboratory product at affordable prices. Organomation is well known for their lines of nitrogen evaporators, solvent evaporators and solvent extraction instruments.
Contact:
David Oliva
davido@Organomation.com
(978) 838-7300
Organomation Associates, Inc.
266 River Road West
Berlin, MA, USA
01503