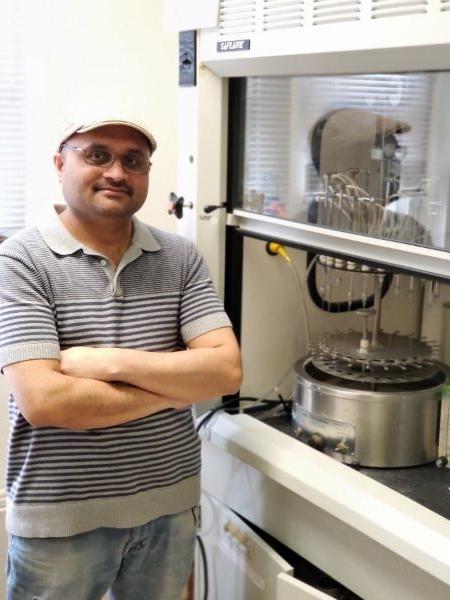 Customer: University of Illinois at Chicago, Department of Medicine
Dr. Poorna Yalagala, Postdoctoral Research Associate at the University of Illinois at Chicago is no stranger to working with Organomation nitrogen blowdown evaporators. He and his colleague have relied on Organomation N-EVAPs for their research for 15 years. He was first introduced to Organomation N-EVAPs while pursuing his PhD in India at the Central Food Technological Research Institute (CSIR). Today, Dr. Yalagala is using Organomation N-EVAP's for his research into the potential role of dietary docosahexaenoic acid (DHA) in brain function and prevention of cardiovascular diseases and neurological disorders.
Application: Removal of Solvent under N-EVAP
When studying the role of brain DHA in mice, Dr. Yalagala, and his colleagues, prepared the samples for gavage by taking DHA compounds into cholorofrm into glass vials. The solvent was evaporated under nitrogen, where the lipid was dissolved in ethanol, and then added to corn oil. The DHA brain content of the mice was analyzed by Shimadzu GC/MS (Shimadzu Auto Sampler AOC-20s).
Conclusion: Organomation's instrument durability can't be beat
Dr. Yalagala looks forward to replacing his lab's original Organomation Meyer N-EVAP from the 90s. After 30 years, the N-EVAP still works. The N-EVAP design has always been "perfect for [my] needs," he said. The N-EVAP sample holder can hold any sized test tubes between 10-30 mm in outside diameter. He can't wait to start using Organomation's latest 24 position N-EVAP design, with a dry bath, and acid resistant coating, to further his research in the prevention of cardiovascular diseases and neurological disorders.
(Photo: Dr. Poorna Yalagala, Postdoctoral Research Associate at the University of IL at Chicago utilizes Organomation's 24 position N-EVAP for his research on DHA brain function in mice.)