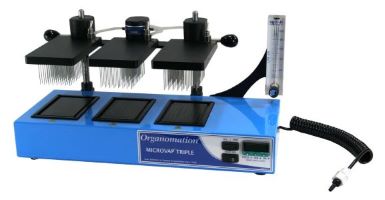 Organomation announces a sale on a wide variety of newly refurbished laboratory evaporators and extractors in the company's official online store. The evaporator manufacturer fully stands behind the quality of their products by offering a one year warranty on their factory refurbished instruments. Laboratories can purchase these instruments at up to 50% off of the list price of a new instrument.
Known for producing a wide range of blowdown evaporators, Organomation has been able to meet the sample preparation needs of laboratories worldwide. The manufacturer has obtained a number of pre-owned instruments from end users who were interested in trading in instruments to receive a discount on newer models. Organomation technicians thoroughly examine and test each unit to guarantee performance.
Sales and Marketing Manager, David Oliva, stated that, "as the only true experts of Organomation equipment, we feel that we are in the best position to refurbish our long lasting evaporators and extractors. By offering a full one year warranty, we stand behind our pre-owned equipment with full confidence."
The company's online store provides an unparalleled selection of restocked and previously owned Organomation sample preparation instruments. This sale includes some of the company's most popular evaporators such as the 24 position N-EVAP which provides both flexibility and individualized control for concentrating a wide range of sample sizes.
Other noteworthy listings include blow down evaporators from the MICROVAP and MULTIVAP product lines. The compact MICROVAPs are known for effectively removing solvent from microwell plates and small batches of samples. The MULTIVAP product line specializes in providing dependable evaporation during the removal of solvents from large batches.
Company background:
Since 1959, Organomation has been a leading provider of analytical chemistry sample preparation solutions. The company has provided quality hand-built equipment and unparalleled levels of customer service since their inception. The foundation of the company stems from the first ever commercially successful nitrogen evaporator invented by Organomation's founder, Dr. Neal McNiven.
Throughout the years, Organomation has expanded upon their product lines while providing a superior laboratory product at affordable prices. Organomation is well known for their lines of nitrogen evaporators, solvent evaporators and solvent extraction instruments.
Contact:
David Oliva
davido@Organomation.com
(978) 838-7300
Organomation Associates, Inc.
266 River Road West
Berlin, MA, USA
01503