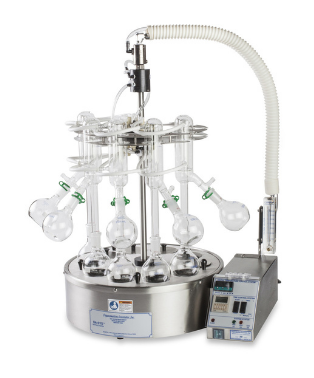 Berlin, MA, September 5, 2014 – In an effort to highlight one of the company's fastest growing instrument types, Organomation.com's solvent evaporator section has been dramatically enhanced. A new organization scheme, high quality photographs and detailed content will be immensely helpful to established customers and prospective buyers alike.
While reviewing the older product pages, Sales Technician Katie MacDowell remarked that, "the choice between analog and digitally controlled water baths was not promoted enough, even though it is one of the most significant differences in Organomation's wide variety of solvent evaporators." Organomation produces baths with both control types in an effort to provide sample preparation evaporators which fit a variety of budgets.
Last month, the Solvent Evaporator for KD Flasks (S-EVAP KD) was prominently featured in the Evaporator section of Lab Manager's 2014-15 Product Resource Guide. The instrument was highlighted due to its unique ability to recover up to 97% of starting solvent volume. Also, unlike rotary evaporators which only process one sample at a time, the S-EVAP can evaporate 5,8, or 10 samples at once.
Company background:
The foundation of the company stems from the first ever commercially successful nitrogen evaporator invented by Organomation's founder, Dr. Neal McNiven. For over fifty years, Organomation has been a leading provider of analytical chemistry sample preparation solutions. The company has provided quality hand-built equipment and unparalleled customer service since its inception.
Throughout the years, Organomation has expanded upon their product lines while providing a superior laboratory product at affordable prices. Organomation is well known for their lines of nitrogen evaporators, solvent evaporators and solvent extraction instruments.
Contact:
David Oliva
davido@Organomation.com
(978) 838-7300
Organomation Associates, Inc.
266 River Road West
Berlin, MA, USA
01503