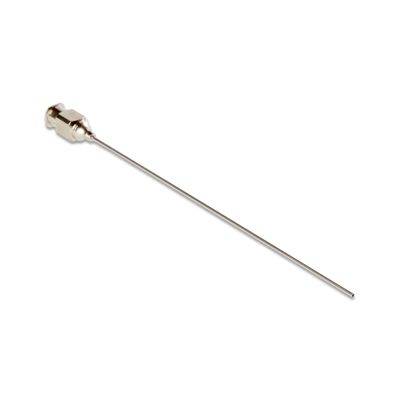 Berlin, MA, January 5, 2015 – Organomation is proud to announce that instrument models in the company's flagship product line, N-EVAP nitrogen evaporators, now come standard with fully stainless steel needles. In the past, these instruments came standard with plastic hub stainless steel needles which are still available as an optional accessory.
Sales and Marketing Manager David Oliva stated that "while we will continue to carry the plastic hub needles, the fully stainless steel needles provide unmatched quality." One of the advantages of Organomation evaporators and extractors is their durability even under the toughest contract laboratory conditions. The company regularly sells new instruments to existing customers who are interested in replacing older N-EVAPs which have been in operation for over fifteen years.
Organomation carries a wide variety of needles for its blowdown evaporators. For evaporating harsh solvents, the company recommends its needle models with acid resistant coatings. For users interested in learning how needles of different gauges impact their evaporation rates, please view the article titled Factors Impacting Gas Flow in an N-EVAP Nitrogen Evaporator.
Company background:
The foundation of the company stems from the first ever commercially successful nitrogen evaporator invented by Organomation's founder, Dr. Neal McNiven. For over fifty years, Organomation has been a leading provider of analytical chemistry sample preparation solutions. The company has provided quality hand-built equipment and unparalleled customer service since its inception.
Throughout the years, Organomation has expanded upon its product lines while providing a superior laboratory product at affordable prices. Organomation is well known for its lines of nitrogen evaporators, solvent evaporators and solvent extraction instruments.
Contact:
David Oliva
davido@Organomation.com
(978) 838-7300
Organomation Associates, Inc.
266 River Road West
Berlin, MA, USA
01503