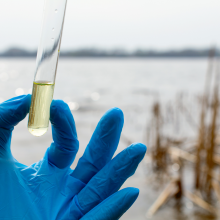 Students at Southern Illinois University, Edwardsville, are using an Organomation 24 position N-EVAP® to measure wastewater treatment systems' ability to remove antibiotics from wastewater.
The team uses SPE and liquid chromatography with tandem mass spec (LC/MS-MS) to analyze and quantity the presence of antibiotics in the wastewater treatment plant. Water samples containing SPE eluent are evaporated to dryness under Organomation's 24 test tube N-EVAP nitrogen evaporator using ultra high purity nitrogen gas. The samples undergo centrifugation and then are analyzed by LCMS.
The team hopes to mitigate the ecological risks wastewater poses to aquatic organisms.
For more information, view the poster presentation, "Detection and Quantification of Antibiotics in Various Wastewater Treatment Systems using LCMS."