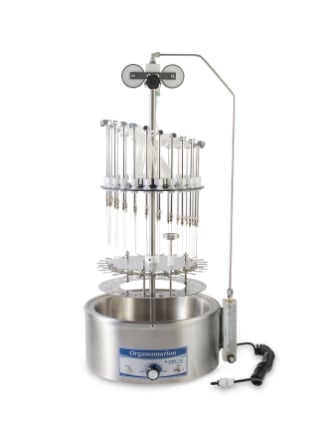 Organomation manufactures nitrogen dryers that are built to last! Our time-tested instruments can last in any laboratory for many years. We manufacture our instruments with high quality parts from suppliers we trust. Our hope is that you will not need to replace your nitrogen dryer until it no longer can be used. However, Organomation knows that certain situations can lead to a customer needing a replacement.
One example of when a replacement would be necessary is due to water damage. Water can lead to a variety of issues with your instrument. A pinhole leak in the inner pan would lead to replacing the inner pan and other damaged electrical components. Which at that point, it would be cheaper to replace your unit, as we do not recommend replacing the most expensive components. This can usually be avoided by regularly changing the bath water. You may also notice that your dryer is shorting and this could be due to too much moisture in your bath case (from repeated spills or excess moisture in the hood). In order to prevent this, you need to be sure to clean up any spills. A flood leading to severe water damage, where the bath has been submerged is another example. This scenario is out of your control, but would ultimately lead to a replacement.
Another example where a replacement would be necessary is due to solvent damage. Improper use of the instrument will cause damages and ultimately, result in the need for a replacement. The use of acidic solvents with a standard instrument is an example of improper use. Our instruments are reliable and require limited maintenance, but our users need to take care of them. Cleaning the instrument periodically will minimize the chance of solvent damage occurring. The instrument should only be used for its intended use discussed upon sale of the instrument in order to avoid these situations.
An aging instrument is another factor that could lead to a user replacing his or her instrument. It is possible that many high value internal components wear out at the same time, resulting in the need for a replacement. As time goes on, some instruments become retired/obsolete and this would require significant retrofitting to use our current parts. Users may also want the new features that are lacking in their old instrument, which would improve productivity, ease of use and overall user experience. The age of an instrument and the outdated features are the most common reason customers end up replacing their unit.
In the event that you believe it is time for a replacement unit, we ask that you contact us. One of our sales technicians will talk over your situation and see what can be done about it. We will explain how to fix the instrument if possible or tell you that a replacement is necessary. In the event that you want credit for your current instrument, we do have a trade-in program. Not all instruments will be applicable for the program, but we do recommend that you fill out the form and we will assess it for you. Organomation hopes that you never have to replace your instrument, but we are here to help every step of the way if you need us.
Contact sales@organomation.com with any questions!