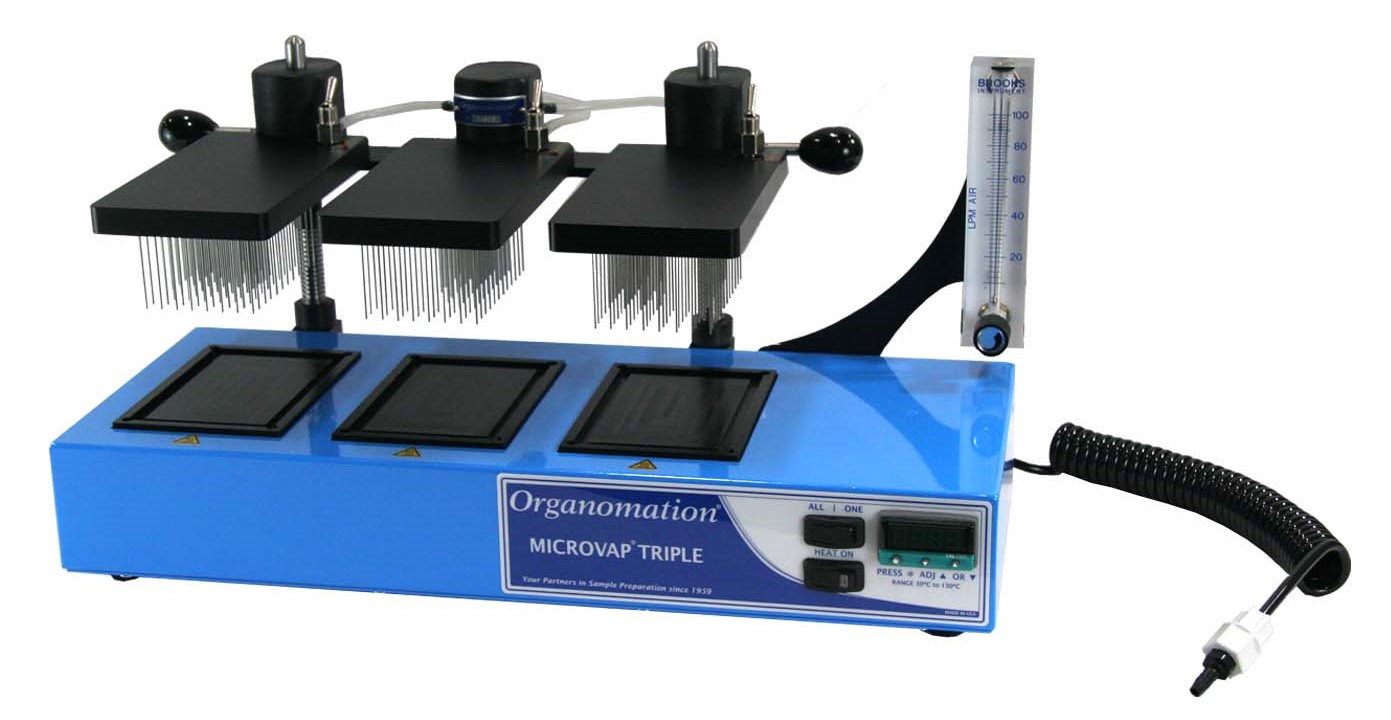 Concentrating low-volume samples in shallow or deep well microplates is a common sample preparation technique used within a large scope of production labs - environmental, academic, toxicology, food/beverage, and pharmaceutical just to name a few. With such a high demand in this space, we at Organomation have made it our goal to provide highly accessible microplate evaporators for labs of all magnitudes.


Triple Plate MICROVAP
Our triple plate MICROVAP evaporator allows users to evaporate up to three 96-well microplates at once. Out of all Organomation instruments, this unit provides the lowest cost per sample position. This affordable microplate evaporator provides a simple solution to batch processing, and can allow even startup laboratories to stay under their equipment budget.
This unit combines three heating blocks and three 96 needle manifolds in a single platform to maintain a small footprint, conserving fume hood and benchtop space which is always in high demand for labs. It's able to fit in most standard sized fume hoods, and only requires one line of nitrogen to run. The three manifold assemblies equally distribute the nitrogen gas across all 288 sample positions. In cases when all three microplates are not in use, the instrument comes with toggle switches that shut down gas flow at individual manifolds - this conserves nitrogen gas and saves labs money.
The digital controller located on the front of the heat plate allows the temperature to be controlled with an accuracy of +/- 2 °C, with a maximum of 130 °C. The adjustable flow meter enables the user to adjust the flow of nitrogen gas entering the system, for optimal delivery to the samples.


How does this unit stand up to the competition?

Although it's important to know the benefits and features a sample concentrator has, it's equally as important to know how these fare with the competition. The features of the triple position MICROVAP are essentially the same as other multiple plate evaporators. The difference? Price. This MICROVAP is roughly half the price of units that offer similar features. Providing a much larger value for your money, our microplate evaporators are a great option for those looking to evaporate a high number of samples on a budget. The accessibility and feasibility of this particular instrument is much higher than comparable units, which is exactly our goal at Organomation.
There are also a number of high-end, automated single plate units within the microplate evaporator market. These units are more expensive, have a third of the sample capacity, and can even decrease your sample throughput compared to the MICROVAP Triple. The automation features significantly rack up the cost of these units, and are often times not entirely needed for labs. The triple plate MICROVAP, on the other hand, is designed simply to avoid labs paying for unnecessary features. This simplicity lowers both the initial cost, as well as the maintenance cost, as the MICROVAP has nearly zero maintenance.


In Summary
Designed with the end-user in mind, this triple plate MICROVAP offers an easy-to-use, affordable solution for high capacity batch processing, which can otherwise become quite pricey. Although considered a low-cost instrument, Organomation's quality and performance standards still stand. All of our sample preparation equipment is hand made with the highest quality materials, resulting in unmatched durability and reliability. Our equipment can last upwards of 50 years with proper cleaning and maintenance.
If you are interested in receiving a quote for this instrument, please reach out to sales@organomation.com or visit the triple microplate evaporator product page where you can fill out a quote request form. Our sales team will provide you a prompt quotation, and can answer any questions you may have.