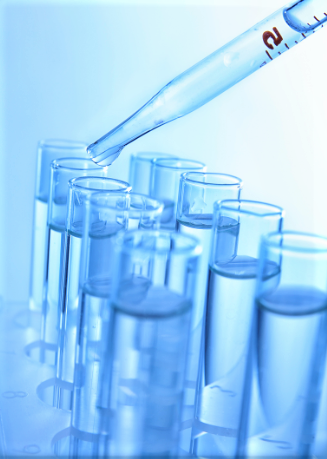 Sample preparation equipment requires many considerations before purchasing. Each piece of equipment has its own benefits, specifications, and limitations, all of which must be acknowledged prior to a final decision. It's important to compare all of these components to the requirements of your application - this is crucial to finding sample prep instrumentation that can meet your needs.
The easiest place to start is looking at your ideal sample volume and your ideal batch size. Learn how to use sample volume to determine concentration equipment. Once you've pinned down a few instrument options that can work for you in this aspect, you can then move on to addressing your batch size.
Sample concentration technologies are each designed to accommodate a specific number of samples. Some instruments are made to hold just one sample, while others are made to hold up to 100. This variation makes it easy to eliminate instruments that undoubtedly do not match your specifications.
Batch Size: 1 Sample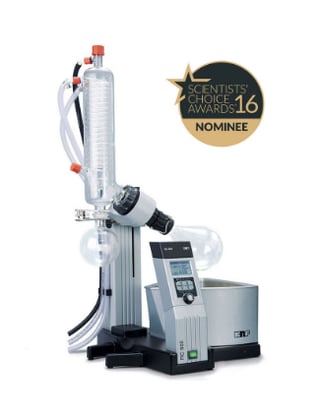 Rotary evaporation is the most popular method for evaporating a single sample. Since rotary evaporators are designed to concentrate no more than 1 sample, their footprint is compact, allowing them to take up minimal hood space. You also won't need to worry about wasting energy and resources by running an instrument with empty sample positions. Their efficiency allows for one medium to large sized sample to be evaporated in 20 minutes or less.
If speed is not necessarily a priority for your sample prep application, freeze dryers are also a great option for concentrating a single sample. Although they can be a bit more expensive, they are a great option if you are working with very delicate samples. Freeze dryers are considered to be one of the safest evaporation techniques in terms of maintaining sample integrity.
Batch Size: 1-24 Samples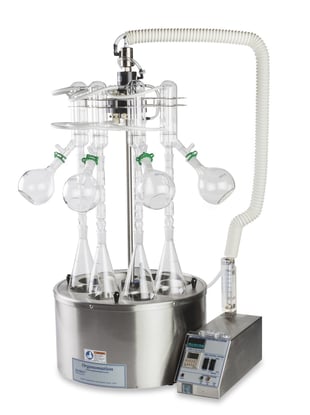 If you will be concentrating small batches of about 1-10 large samples, a solvent evaporator could be a great fit. Solvent evaporators are able to accommodate up to 8 or 10 samples at once. However, they can also be operated with less than the maximum number of samples if desired. Although solvent evaporators are great for large samples, they are not ideal when working with small samples.
A great option for evaporating 1-24 small volume samples is a small capacity nitrogen blowdown evaporator. Nitrogen evaporators come in a wide variety of sample capacities, allowing them to be used for many different applications. Like the solvent evaporators, nitrogen evaporators can also be operated with less than the maximum number of samples if desired.
Batch Size: 25-100 Samples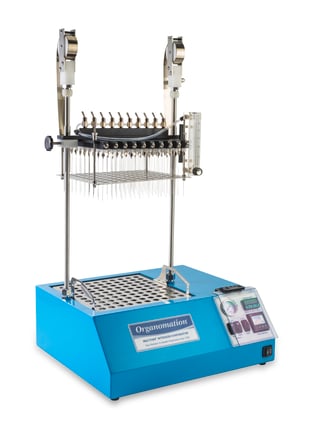 There are a couple options when evaporating large batches of 25-100 samples. One option is a nitrogen blowdown evaporator. As mentioned previously, nitrogen evaporators come in a wide variety of sample capacities and can have as many as 100 positions. Their compact designs allow them to maintain a small footprint and to fit in a standard sized fume hood. Nitrogen evaporators are also one of the most affordable high capacity sample prep instruments.
Another option for large sample batches is a centrifugal or vacuum evaporator. Centrifugal evaporators are designed to accommodate a large number of small volume samples. Although these instruments tend to be much more expensive than nitrogen evaporators, they are able to maintain the integrity of heat sensitive samples, while also concentrating solvents with boiling points up to 220 °C, making them a bit more versatile.
Now that you've discovered which sample prep instrumentation will work with your ideal sample size and your ideal batch size, you can begin to narrow down your options even further by looking at your budget, maximum temperature, or any other factors which may be important for your application.
Still not sure which instrument or concentration method is best for you? Use our evaporation method recommendation tool! In under a minute, you will receive a recommended method of evaporation that best suits your needs.