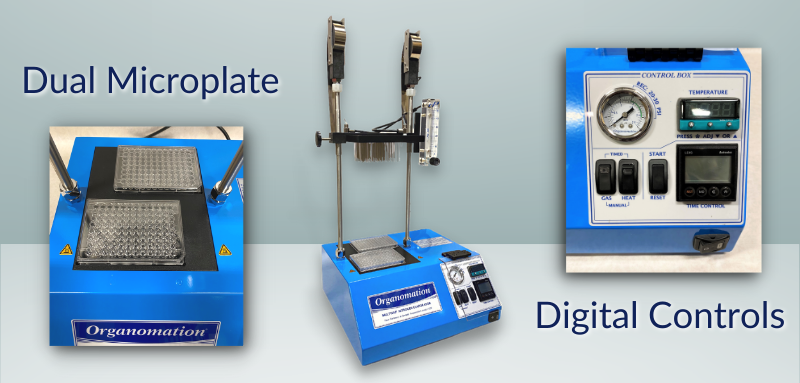 Organomation is proud to announce our latest custom evaporation solution - the Dual Microplate Evaporator. This benchtop evaporator is designed to accommodate two standard or deep 96 well microtiter plates, similar to our MICROVAP evaporator line, but with added controls from our MULTIVAP line. Geared mainly towards biotechnology, life science, and pharmaceutical institutes, this hybrid solution is perfect for labs needing a simple, digitally-controlled unit.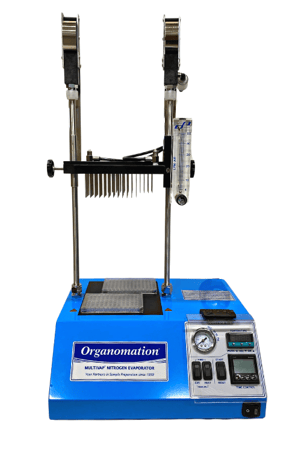 The Dual Microplate Evaporator includes all of the standard digital controls that our MULTIVAP units have to offer. The heating unit will have a digital timer, a temperature display, and a built-in pressure gauge for precise control. The timed evaporation setting allows you to program the control box with the desired evaporation time for semi-unattended operation. At the end of the set time, both the gas flow and heat to the samples will be turned off to avoid sample degradation.
The entire manifold moves up and down as a complete unit using our classic band spring hoist assembly, which is used on a number of our other instruments. This allows you to instantly start or stop the evaporation process, and ensures that the gas delivery needles stay perfectly lined up with both microplates each time you raise and lower the unit. The gas manifold also includes two toggle switches that control that gas flow to each microplate. In instances where you may only be concentrating one microtiter plate, you can shut off one toggle switch, conserving your lab's nitrogen gas.
If you are interested in our custom Dual Microtiter Plate Evaporator, you can request a quote on our website, or email us to sales@organomation.com. Our sales team is happy to address any questions or concerns you may have.