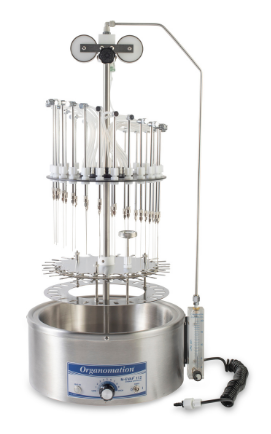 Berlin, MA, July 11, 2014 – Earlier this year, Organomation proudly lengthened the standard warranty for some of its most popular nitrogen evaporators from one to two years. Since 1959, laboratory professionals have chosen the company's evaporators and extractors due to their durability, ease of use and value. Organomation firmly stands behind its instrument's quality by extending the standard warranty length for several evaporator models.
The Organomation brand is synonymous with blow down evaporation applications utilized in a wide number of industries. The popular N-EVAP product line is cited in a large number of standardized methods published by organizations such as the US EPA and FDA. The two best selling models from this product line, the 12 and 24 position N-EVAPs, now come with a standard two year warranty when purchased new.
In addition to the N-EVAP, Organomation's MICROVAP evaporator line also aides laboratories by providing efficient sample concentration. These nitrogen blow down instruments are specially designed to concentrate small volume samples held in test tube vials or 96 well micro plates. All four models in the MICROVAP line now have a standard two year warranty, an increase from the previous warranty term of one year.
For more information on the company's warranty and service policy, please refer to the Terms and Conditions of Sale. For laboratories interested in extending warrantees beyond the standard term, Organomation can provide a custom warranty quote for any of its instruments.
Company background:
The foundation of the company stems from the first ever commercially successful nitrogen evaporator invented by Organomation's founder, Dr. Neal McNiven. For over fifty years, Organomation has been a leading provider of analytical chemistry sample preparation solutions. The company has provided quality hand-built equipment and unparalleled customer service since its inception.
Throughout the years, Organomation has expanded upon their product lines while providing a superior laboratory product at affordable prices. Organomation is well known for their lines of nitrogen evaporators, solvent evaporators and solvent extraction instruments.
Contact:
David Oliva
davido@Organomation.com
(978) 838-7300
Organomation Associates, Inc.
266 River Road West
Berlin, MA, USA
01503