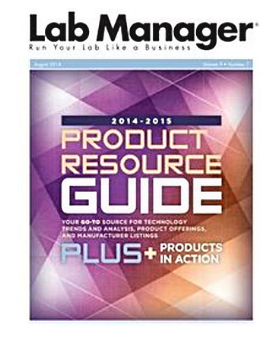 Berlin, MA, December 9, 2014 – Each year, Lab Manager publishes a purchasing guide which covers a wide range of laboratory product categories. The 2014-2015 edition features two different Organomation evaporators and one of the company's nitrogen generator models.
In the publication's Editor's Note, Assistant Editor Rachel Muenz stated that "while many aspects of our guide remain the same, this year we add an element of fun to that established content with new lists of interesting tidbits about the product categories." The first fact in the "Top 4 Things You May Not Know about Evaporators" section was that Organomation's founder, Dr. Neal McNiven, invented the first high speed nitrogen evaporator which could process multiple samples at once. The Evaporator section also featured the S-EVAP-KD Solvent Evaporator for KD Flasks which can collect up to 97 percent of solvent.
In the Gas Generators/Specialty Gases section, Organomation's Double Cartridge Nitrogen Generator was highlighted for its ability to produce nitrogen gas to support up to 100 sample positions. Also, the Chromatography Sample Prep Products category featured the MICROVAP Triple Microplate Evaporator. This evaporator was featured because of the high throughput it provides by concentrating up to three 96 well microplates at one time.
Company background:
The foundation of the company stems from the first ever commercially successful nitrogen evaporator invented by Organomation's founder, Dr. Neal McNiven. For over fifty years, Organomation has been a leading provider of analytical chemistry sample preparation solutions. The company has provided quality hand-built equipment and unparalleled customer service since its inception.
Throughout the years, Organomation has expanded upon their product lines while providing a superior laboratory product at affordable prices. Organomation is well known for their lines of nitrogen evaporators, solvent evaporators and solvent extraction instruments.
Contact:
David Oliva
davido@Organomation.com
(978) 838-7300
Organomation Associates, Inc.
266 River Road West
Berlin, MA, USA
01503