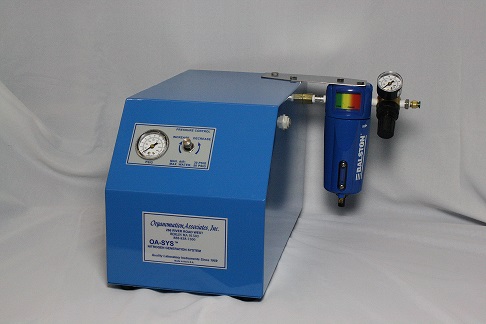 Organomation presents one of their most advanced accessories to date, a newly revamped Nitrogen Generator. This compact unit will provide laboratory technicians with their own source of nitrogen for reduced cost and increased productivity.
Sales and Marketing Manager David Oliva stated that "one of the main concerns related to using blow down evaporators is the cost of nitrogen consumption over time. Our newly designed Nitrogen Generator will help users avoid the costs associated with purchasing and replacing nitrogen tanks."
The Nitrogen Generator can be used with the new Automatic 20 Position N-EVAP or with any of Organomation's other nitrogen evaporators such as the popular MULTIVAP line of instruments. By eliminating the use of expensive nitrogen tanks, the generator will pay for itself over time based on the user's nitrogen consumption. Decreased costs and maintenance, make this accessory a must have for technician's operating any of Organomation's evaporation systems. The generator efficiently delivers a 99.9% pure stream of nitrogen directly to the laboratory evaporator so quality is never an issue.
Company Background:
Organomation's laboratory evaporators are extremely effective in solvent removal for preparative gas chromatography (GC), liquid chromatography (LC) and various sample prep procedures related to other types of analytical laboratory testing.
Since 1959, Organomation has been a leading provider of analytical chemistry sample preparation solutions. The company has provided quality hand-built equipment and unparalleled levels of customer service since their inception. The foundation of the company stems from the first ever commercially successful nitrogen evaporator invented by Organomation's founder, Dr. Neal McNiven.
Contact:
David Oliva
davido@Organomation.com
(978) 838-7300
Organomation Associates, Inc.
266 River Road West
Berlin, MA, USA
01503