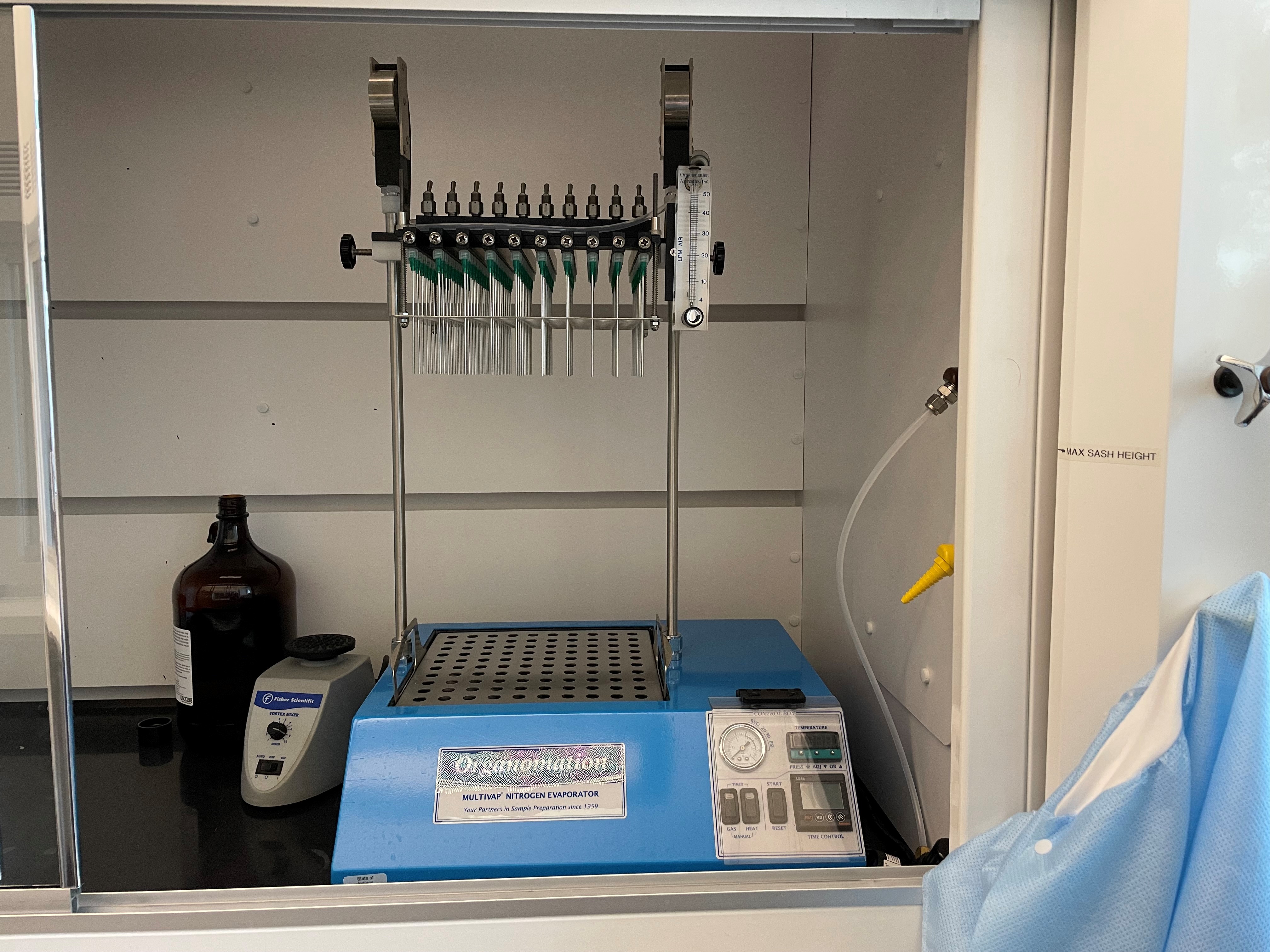 Customer: Toxicology Lab
The Indiana State Department of Toxicology (ISDT: General Information)(ISDT) became a state agency in 2012 and has been analyzing blood samples for the state of Indiana, utilizing the TOF drug screening method since 2016. According to their website, "…the majority of specimens submitted for testing are from operation of a vehicle while intoxicated investigations. The laboratory tests for most of the drugs typically found in such cases, including ethanol, marijuana (cannabinoids), benzodiazepines, opioids (related to morphine), amphetamines, and cocaine." (https://www.in.gov/isdt/general-information/). Due to the nature of their work, the ISDT needed a faster way to concentrate a large quantity of similar sample types.

Applications: Extractions of Blood Specimens Serve as Evidence
The ISDT uses Organomation's 100 Position MULTIVAP as part of the process for conducting blood analysis for drug screenings. Once the sample is blown down, it is then injected into LC/TOF (Liquid Chromatography Time-of-Flight Mass Spectrometry), for analysis, and eventually, the results are submitted as evidence in criminal cases.

Equipment Benefits: Organomation's MULTIVAP Help Speed Up an Already Complex Process
The overall process is complex. Depending on what the screen results indicate, additional testing is needed. This lab processes about 96 samples per batch which results in an average of 950 samples per month. Labs that evaporate many samples with similar contents are perfect candidates for the 100 Position MULTIVAP. These instruments are efficient and utilize adjustable blowdown technology making them not just desirable, but necessary.

Conclusion: The 100 Position MULTIVAP would be recommended to anyone who:
-Needs a solvent evaporator that can blow down 10 - 100 similar samples (10-22mm OD)
-Needs precise temperature regulation
-Needs an economically priced instrument that performs efficiently to conserve gas
-Needs an instrument that fits into a standard chemical hood
This laboratory evaporator could benefit you too!
Follow the link below to learn more about MULTIVAPs and optional accessories such as Nitrogen Generators, Acid-Resistant coatings and refurbished instruments.
https://www.organomation.com/products/nitrogen-evaporators/multivap-product-line/100-position-multivap-nitrogen-evaporator