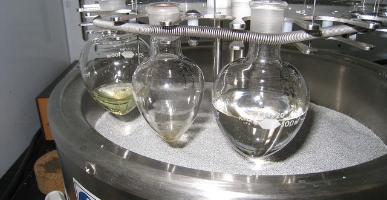 Samples Undergo Nitrogen Evaporation
On April 20, 2010, the Deepwater Horizon Drilling Platform exploded and sank, causing the largest oil spill yet recorded. Samples from the oil spill were collected by Louisiana USGS scientists Greg Swayze and Charlie Demas and sent for analysis in Menlo Park, CA.
The samples were run through a liquid chromatograph column in order to separate the compounds of the petroleum. Following the preliminary separation, the dissolved samples are placed in a nitrogen evaporator. The nitrogen evaporator carefully evaporates only the solvent, leaving the separated samples behind. The nitrogen environment used by the evaporator ensures that the volatile compounds of the tar ball sample do not evaporate themselves.
No changes were made to the content above. This content is redistributed under the license terms outlined in the Creative Commons Attribution 4.0 International Public License.
If you are interested in learning more about U.S. Geological Survey's Deepwater Horizon Response, please view the entire photo album at https://www.flickr.com/photos/usgeologicalsurvey/sets/72157624155426849
Image Source: https://www.flickr.com/photos/usgeologicalsurvey/4687969921/