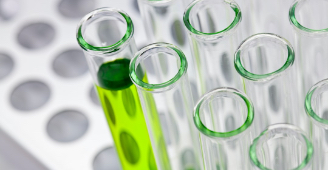 Customer: Environmental Laboratory
One of the largest environmental testing laboratories in the United States relies on Organomation instruments of high-quality sample analysis for water, soil, and emerging contaminants, such as PFAS.
The state-of-the-art laboratory facility uses the best sampling equipment and technology to meet customer's needs.
The Extractions Department was looking for an innovative and cost-effective procedure to prepare a large number of samples with quick turnaround times for their customers and found Organomation's sample preparation instruments.
Application: Identifying pesticides in water, soil, and sediment samples
The laboratory uses Organomation's solvent evaporators (S-EVAPs) to process a large number of soil and sediment samples to identify potential contaminants. The samples are concentrated down to smaller 1 mL of solvent in Organomation's nitrogen blowdown evaporators (N-EVAPs).
Equipment Benefits: Time and recovery of toxic solvents
The S-EVAPs save the laboratory time by reducing the amount of time it takes to concentrate the solid extracted materials. The large volume solvent evaporators easily condense up to ten 125 mL, 250 mL, or 500 mL samples in round bottom or Kundera danish flasks sizes. Both the S-EVAP RB and KD instruments consist of a base and stand assembly, mounted in a round bath. The entire instrument rotates so that all samples are accessible from the front saving space in the fume hood.
One of the problems with traditional organic extraction procedures is the large volumes of solvent evaporated with no procedure for collection and proper disposal. As volatile organic solvents are released into the environment, it can lead to health and environmental hazards. Organomation's S-EVAPs are capable of recovering up to 97% of the toxic solvents that would otherwise be polluting the air. Excess solvent is collected into either individual or central collection flasks, so it can be disposed of properly.
For endpoint operations, the laboratory takes the concentrator tube directly into an N-EVAP nitrogen evaporator using nitrogen blowdown to reduce the final volume. The sample is often processed through a gas chromatography machine.
Conclusion
Results are often used in meeting regulatory requirements or litigation cases; data integrity is of utmost importance. Organomation instruments are known for their quality and are capable of daily use for many years. Organomation is proud to provide sample preparation instruments to nationally renowned environmental laboratories known for analytical excellence.

To learn more about Organomation instruments, please contact a sales technician.