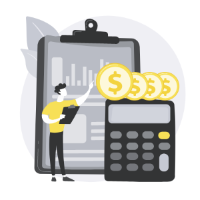 One of the main reasons why many labs put off purchasing a piece of sample preparation equipment, even if it's highly needed, is due to a limited budget. In most laboratories, such as in an academic setting, the ability to receive $10,000+ in funding to acquire a new sample concentrator is out of the question. Organomation understands this lack of funding that laboratories face, which is why we provide instrument options that fall within the majority of funding limits. Our goal is to meet your budgetary needs, while also providing you with a high-quality instrument that can stand the test of time.


♦ Economical Sample Concentrators ($)
Working with a tight budget of approximately $2k-3k may sound nearly impossible, but many of Organomation's small concentrators fall within or even below this price range. Our MICROVAP concentrators are our most affordable units, and are designed simply to avoiding paying extra for unnecessary features. With very minimal maintenance or up-keep, these economical small batch concentrators are a sure way to meet your limited budget.
Organomation also offers a refurbished instrument program where you can purchase refurbished nitrogen evaporators for a fraction of the cost of new units. Our skilled production team refurbishes used instruments back to full-working condition, and upgrades outdated parts to ensure the unit performs like new. With the majority of our refurbished units under $3k, you're certain to find one that meets your lab's needs and funds. Contact sales@organomation.com for information on the refurbished instruments that are currently available.
♦ High Efficiency Sample Concentrators ($$)
The majority of Organomation's instruments will fall between $4k-6k depending on the desired features and sample capacity. This central price range is all about balancing the evaporator's cost with its perks and benefits. A lab with this amount of funding has more flexibility, so it's important to look at all your options to ensure you're fully maximizing your evaporator budget.
It's useful to ask yourself, "Besides price, what is the most important feature I'm looking for in a sample concentrator?" It could be sample capacity, digital controls, versatility, evaporation speed, etc. If you're looking for a reasonably priced test tube evaporator, Organomation's 24 position N-EVAP could be right for you. The N-EVAP falls within this mid-tier budget and is able to fulfill the needs of various applications with optimal user control. Our lower capacity MULTIVAP units are also a great option to fit this budget, especially if you are interested in a digitally controlled evaporator.
♦ Premium Sample Concentrators ($$$)
Organomation also offers premium instruments with additional features and sample capacity for labs who are lucky enough to have a budget of $7k or more. With this price range, you are able to get the highest capacity instruments we offer, most notably our 100 Position MULTIVAP. This high-capacity sample concentrator can accommodate large batches of samples while offering full digital controls, for an optimal user experience.
This funding also allows you to explore instruments with automation capabilities, such as our automated nitrogen evaporator. The automatic features allow the gas flow and heat to be turned off, as well as lifting the samples out of the heating medium after a specified time period. Although these additional features are not necessarily needed for sample concentration, they can certainly aid in the efficiency and productivity of the process.
♦ Conclusion
Consumer satisfaction and evaporation expertise is what drives Organomation to be a successful sample preparation solutions provider. We want our products to be widely available to labs of all sizes, no matter the budgetary restrictions.
If you would like to receive formal quotes on any of our units, please reach out to our sales team at sales@organomation.com, (978) 838-7300, or our live chat.