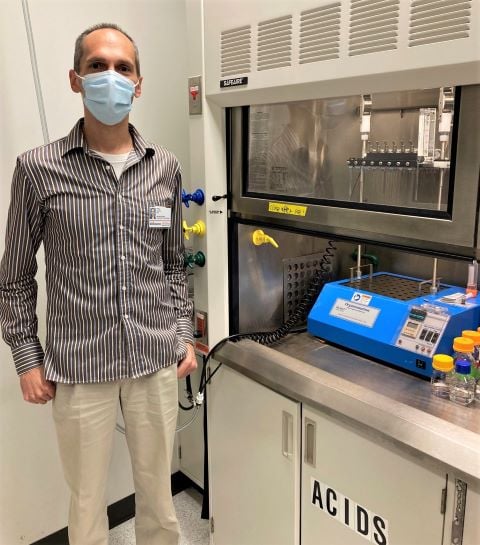 After the spring meeting of the Laboratory Products Association in Austin, Texas, I headed east to the University of Texas MD Anderson Cancer Center located in Houston. While the organization has several locations in the city, I toured the installation within University of Texas Research Park.
The Core Laboratory Supervisor of the Proteomics Facility graciously invited me to visit their laboratory where I could see the Organomation blowdown evaporator we built for them and learn about their general process.
I was very fortunate to not only meet the Laboratory Supervisor, but the Facility Director, Phil Lorenzi, as well. As we walked the lab, Phil discussed how their technicians analyze proteins through mass spectrometry, primarily for clinical cancer research.
To prepare the samples for analysis through mass spec, the laboratory relies on their MULTIVAP nitrogen evaporator which holds 64 sample vials for batch processing. One of the advantages to Organomation evaporators in general is their ability to switch between different test tube sizes with ease.
Due to how the heat degrades these specific analytes, the evaporation process is completed at ambient temperatures. Phil noted that the gentle treatment of the samples played a critical role in producing accurate findings. Lab technicians shared that one of their favorite features of the MULTIVAP is how the visibility of the test tube contents aides in monitoring the sample preparation process.
MD Anderson is the gold standard for cancer research in the United States and my impression was that Proteomics Facility is seeing a rapid rise in demand for their services due to excellent management, promotion, and of course, expertise. In the near future, this laboratory plans to add a second evaporator to their sample prep workflow, and we hope to draft a formal case study on them at that time.