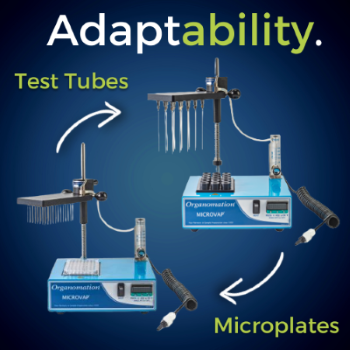 Many analytical and research laboratories work on a variety of projects, each one requiring their own procedures, supplies, and instrumentation. Having to purchase unique equipment for each procedure is not only quite costly, but inefficient and a waste of valuable space. Having a slew of different analytical instruments will quickly fill limited benchtop and fume hood space, which is a common concern among laboratories, particularly small or private labs.
Organomation's MICROVAP evaporator is the perfect all-in-one solution. This versatile nitrogen concentrator is designed to accommodate multiple projects with its optional conversion kit. The standard MICROVAP models are able to hold either test tubes or a 96 well microplate. But what if your applications require you to concentrate both? Instead of purchasing a second MICROVAP unit, you can simply purchase a conversion kit, which is sold at a fraction of the price of a new unit.
This conversion kit includes a new nitrogen distribution manifold and heat block to accommodate either a 96 well microplate or 15-24 sample tubes. The parts are easily interchangeable, allowing you to switch back and forth between sample types. The video below demonstrates how easy it is to install this conversion kit.
The conversion kit allows you to essentially purchase two units in one, making it perfect for labs with multiple procedures who have a tight budget or limited benchtop space. The MICROVAP remains as one of Organomation's most compact and affordable evaporators. Paired with its unique design and adaptability, it continues to be a staple in many laboratories around the world.
If you have any questions on the MICROVAP nitrogen evaporator and its conversion kit, or if you would like a formal quote, please email us at sales@organomation.com or call us at (978) 838-7300.